Will My Co-Signer Be Responsible For Debt If I File For Bankruptcy?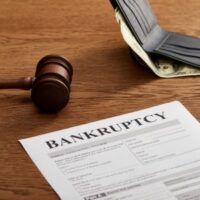 If you are struggling with overwhelming debt, filing bankruptcy might be an option for you. People often choose Chapter 7 bankruptcy because the process is quick and because Chapter 7 bankruptcy enables you to have your debts discharged/forgiven. However, if you are not eligible for Chapter 7 bankruptcy, you can benefit from filing a Chapter 13 bankruptcy. When you file a Chapter 13 bankruptcy, you can pay off your debts over a period of time, usually 3 to 5 years. With that said, if you have a co-signer on any of your debts, you need to know how your decision to file for bankruptcy may affect them.
Who Is a Co-signer?
A co-signer is responsible for paying back your debt just as you, the borrower, are obligated to pay. Lenders are sometimes only willing to give out a loan if the borrower can get another person to agree to be responsible for the debt.
There are many reasons why people need co-signers. For example, a bank might need you to have a cosigner if;
Your credit is not perfect.
You do not have enough credit history that can be used to judge your ability to pay back the loan.
You want the bank to give you more money than you can afford to repay.
You cannot put up collateral to secure the loan.
Having a co-signer can offer you several benefits. For example, if you have a cosigner, you may get a better interest rate. On the other hand, your co-signer may face several risks. If you fail to repay your loan, your co-signer will be responsible for repayment.
Will My Co-signer Be Responsible for Debt if I File for Bankruptcy?
If you file a Chapter 7 bankruptcy, all collection efforts against you must stop because of the automatic stay. However, the automatic stay will not extend to your co-signer. Therefore, if you file a Chapter 7 bankruptcy, your co-signer may be pursued by creditors.
If you do not want creditors to keep pursuing your co-signer after filing a Chapter 7 bankruptcy, there are some steps you can take. However, before you take any step, talk to an attorney.
Reaffirm the debt – Reaffirming a debt means that you give up the benefit of your discharge and make yourself personally responsible for the debt again. Before receiving a Chapter 7 discharge, you can reaffirm secured debts like mortgages and car loans.
Note: It is usually not advisable to reaffirm a debt unless you need the asset.
Pay off the debt – After a Chapter 7 discharge, you can choose to voluntarily pay off a particular debt to protect a co-signer. But, unless you can make payment in a lump sum, you will need to negotiate a payment plan with the creditor.
On the other hand, Chapter 13 bankruptcy offers more protection to co-signers. When you file Chapter 13 bankruptcy, the "codebtor stay" protects your co-signer. However, if, for example, you are not proposing to pay off the debt in full through your Chapter 13 payment plan, your co-signer may remain liable for your debt. Also, if your bankruptcy case is dismissed, the codebtor stay will end.
Contact a Pennsylvania Bankruptcy Attorney for Legal Help
If you are considering bankruptcy and feel concerned about its effect on a co-signer, contact an experienced Lehighton & Carbon County bankruptcy attorney at Adam R. Weaver, Esq.
Resource:
law.cornell.edu/uscode/text/11/1301