When Is the Best Time To File For Personal Bankruptcy?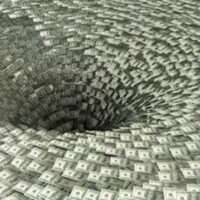 Everyone faces debts at some point in their life. In some circumstances, a tight budget and strong focus can help you move toward financial independence. However, there are circumstances under which a person may not be able to dig out from their current financial situation. Medical bills from an unexpected injury or a layoff that came out of nowhere could devastate a family financially.
Determine Eligibility
First, you must determine if you are eligible to declare bankruptcy. There are two types of bankruptcy (Chapter 7 and Chapter 13) that an individual may file. A Chapter 7 bankruptcy is a quicker bankruptcy and allows a debtor to eliminate (discharge) almost all of their debt. However, in order to file a Chapter 7 bankruptcy, you must pass a "means test." This test examines your debts and income within a specific formula and determines if you have enough disposable income left at the end of every month to pay your debts. Visiting with a bankruptcy attorney can help you correctly calculate if you will pass a means test and are eligible for Chapter 7 bankruptcy.
Chapter 13 bankruptcies do not require a means test. This type of bankruptcy does not discharge debts, but rather allows a debtor to reorganize their debts over a longer period of time to be able to pay them off. It is important to note that in order to file a Chapter 13 bankruptcy, a taxpayer must have officially filed federal and state taxes for the prior 4 years.
When To File For Bankruptcy
As previously mentioned, many people face bills throughout their lifetime, and oftentimes simple financial budgeting tools may help someone recover from a financial setback. However, if you are facing more serious circumstances regarding your financial condition, you may want to consider filing for bankruptcy. Ask yourself the following questions:  If you are facing any of the following circumstances, you may be in a position to seriously consider filing for bankruptcy.
Are you near losing your home due to foreclosure?
Are you recycling your debt by obtaining more loans to pay off your bills?
Are you receive phone calls and threats from bill collectors throughout the day?
If you can answer yes to any of those questions, you may benefit from the financial freedom a bankruptcy would provide.
Let Us Help You Today
Making the decision to file for bankruptcy is never easy. You may feel overwhelmed with the choices that need to be made, or what your next steps should be. Bankruptcy can take months or years and can involve complex legal matters. Ensure your rights are protected and contact experienced Lehighton & Carbon County bankruptcy attorney Adam Weaver who can help you make the best financial decisions given your specific financial situation. Call our legal team at 570-818-4888 or contact our office online for a free consultation today.
https://www.weaveresq.com/understanding-the-bankruptcy-process/