Should You File For Bankruptcy In Pennsylvania Before Or After A Divorce?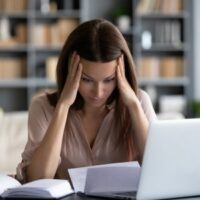 Financial hardships and divorce are two of the most stressful things you can go through in life. Sadly, dealing with the two at the same time is more stressful. Unfortunately, it is not uncommon for people to find themselves in a situation where they are dealing with financial hardships and divorce at the same time. If you are currently facing financial difficulties and dealing with a looming divorce, you need to remember that you are not alone.
If you are currently struggling financially and your marriage is about to be over, the chances are, you're looking to start afresh by dealing with your debt and divorce. One of the options you are most likely thinking about when it comes to dealing with debt is bankruptcy. If you are thinking about filing for either a Chapter 7 or Chapter 13 bankruptcy while dealing with an imminent divorce, you might be wondering, "Should I file my bankruptcy case before or after my divorce?" Simply put, the answer to this question is, it depends. Before deciding whether to file for bankruptcy, before or after your divorce, you need to consider several things.
Read on to learn about three important factors you need to consider before deciding when to file for bankruptcy.
The Bankruptcy Chapter You Want to File
If you are about to get a divorce and are considering filing for bankruptcy, the first important thing you need to consider is the bankruptcy chapter you want to file. Generally, it is advisable to file a Chapter 7 bankruptcy before divorce and a Chapter 13 bankruptcy after divorce. A Chapter 7 bankruptcy can enable you and your spouse to discharge a significant amount of debts in a short time. Additionally, filing a Chapter 7 bankruptcy before a divorce can allow you to take advantage of the marital bankruptcy exemptions. Filing a Chapter 13 bankruptcy before a divorce may not be a good idea because such a bankruptcy lasts between three to five years.  It may also complicate your divorce in filing a petition as to who is responsible for making your bankruptcy plan payments during the pendency of your divorce case.
Suppose you file a Chapter 13 bankruptcy before your divorce. In that case, if you and your husband or wife decide to divorce during your bankruptcy case, then you may have to go through the process of having your bankruptcy case separated into two cases or prematurely closed and refiling a separate case. If you wait until after your divorce case is finalized in a chapter 13 case, there are some additional discharge options available in a chapter 13 case that is not in a chapter 7 case, also referred to as  the chapter 13 superdischarge in regards to certain marital obligations contained in a property settlement agreement.  If you have past due child support or spousal support obligations, a chapter 13 case may also permit you to catch up on the arrears as opposed to the threat of being found in contempt in a state court proceeding.
Household Income
If, for example, you want to file a Chapter 7 bankruptcy, you need to consider your household income. Your household income is one of the things that determine whether you are eligible to file a Chapter 7 bankruptcy. If your combined household income disqualifies you from filing a Chapter 7 bankruptcy, it might be a good idea for you to wait to file for bankruptcy after your divorce or become legally separated living in two separate households.
Your Assets and Property
Before deciding when to file for bankruptcy, you should consider how filing for bankruptcy before or after divorce will affect your assets and property. Keep in mind that for married couples in Pennsylvania, some exemptions double in amount. For instance, if you file for bankruptcy while still married, you will most likely have a larger exemption amount to be able to apply it toward your equity in a home, vehicle, or financial accounts.
Contact Us for Legal Help
If you are currently dealing with financial hardships and a looming divorce and are unsure about when to file for bankruptcy, contact a skilled Lehighton & Carbon County bankruptcy attorney today on 570-818-4888 for professional legal guidance.
Resource:
paeb.uscourts.gov/bankruptcy-basics