Negative Thoughts You Should Get Rid Of About Your Bankruptcy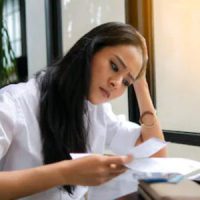 If you are struggling with overwhelming debt, you have options. One of these options is filing bankruptcy. After you file, the automatic stay will prevent creditors from calling you and demanding payment. The automatic stay can prevent creditors from suing you and sending you letters. Also, a bankruptcy filing can stop an eviction, foreclosure, wage garnishment, and utility shutoffs. When you file for bankruptcy, you will be able to allow yourself to rearrange your finances and start over. Both Chapter 7 and Chapter 13 bankruptcy can allow you to start over financially.
Unfortunately, even if you know about the benefits of filing bankruptcy, the reality is that proceeding with the bankruptcy process can be hard. Even if you are sure that filing for bankruptcy is the right thing to do, you might find yourself having a difficult time. Usually, people experience a hard time proceeding because of other people's uneducated opinions on bankruptcy.  Also, negative thoughts in your own head can make bankruptcy proceedings difficult for you. Below are two negative thoughts you need to get rid of about your bankruptcy.
Incorrect Thought #1: I Am a Failure
Indeed, it is understandable to want to blame yourself for ending up in a situation where bankruptcy seems like the only way out. But, despite many people assuming that people who file for bankruptcy are failures, the reality is that people rarely file bankruptcy because they have failed. One of the main reasons people file for bankruptcy is medical bills. An unexpected medical issue will often cost a person or family thousands of dollars in unexpected expenses. Bankruptcy is usually the best option for people drowning in medical debt.
The following are other main reasons people file for bankruptcy;
Divorce
Job loss
Unexpected expenses
Inflation with costs of living increasing and pay remaining stagnant
Overly High Usuary Interest Rates on credit cards with minimum payments that don't reduce the principal balance
Missed a mortgage payment and unable to catch up or lender is not willing to work out a repayment plan
Do not be too hard on yourself. The most crucial thing is that you're taking the necessary steps to overcome your financial problems and start afresh.
Incorrect Thought #2: I Am the Only Person in This Position
According to statistics, in 2019 before the pandemic, there were 774,940 bankruptcy filings.    During the pandemic, there was fewer bankruptcy filings  with reduced creditor pressure while government subsidies existed and 413,616 filed in 2021.  It is anticipated that bankruptcy filings will begin to increase as the market adjusts post-pandemic economic realities.  This means that in any given year, hundreds of thousands of people file bankruptcy. You are not the only person in this situation. However, it is understandable if you feel you are the only one in this situation. You might be feeling this way if you are the first one among your friends or family members to file bankruptcy. Whatever your reason for feeling this way is, keep in mind that you are taking steps that can improve your financial situation.
In conclusion, it is important that, on top of letting go of these two negative feelings, you avoid going through the process alone. Allow your friends and family members to support you. Also, retain the services of a bankruptcy attorney.
Contact an Experienced Lehighton & Carbon County Bankruptcy Attorney
At Adam R. Weaver, Esq., we are here to help you through the bankruptcy process. Contact our Lehighton & Carbon County bankruptcy attorneys today to schedule a consultation.