Avoid Scammers While Going Through Bankruptcy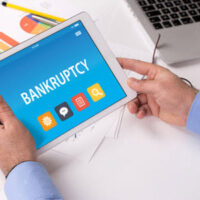 Many people are unaware of all of the intricacies and legal issues that accompany the bankruptcy process. Filing for bankruptcy is a federal legal issue, and there are several differences between both Chapter 7 and Chapter 13 bankruptcies. However, one of the commonalities between the two is that unscrupulous people will attempt to take additional financial advantage of those going through an already stressful time. While you are attempting to find a financial fresh start, scammers using a multitude of tricks and tactics may attempt to target you for financial gain after you file for bankruptcy. Learning more about these types of scams will help you keep an eye out for them, and not fall for any of their deceptive and convincing tactics.
How Scammers Find You
If you made the decision to file for bankruptcy, then that information is completely public. Finding a listing of who has filed for bankruptcy is relatively easy and inexpensive. There is a website that can be accessed through a minimal fee. Any person that accesses this website will have information regarding you, and your bankruptcy filing.
Different Types of Scams Against Those Filing For Bankruptcy
Because your name and phone number is listed in your bankruptcy claim, scammers will have access regarding how to contact you personally. Also listed in a bankruptcy claim is the name of the law firm, or lawyer, representing you in your bankruptcy. Using the phone number listed for the law firm, these scammers will then contact you using software that hides their phone number and replaces it with that of the law firm or lawyer that represents you. When you pick up the phone to visit with who you think is a representative of your law firm, they will state that one of the debts on your bankruptcy petition is not considered dischargeable by the court. As a result, you must immediately pay this debt, or the bankruptcy can not proceed. In many cases, they will attempt to get your credit card information immediately and threaten that your bankruptcy will be completely dismissed if you do not immediately pay this particular creditor. In some seriously brazen situations, the scammer will threaten that the debtor will be held in contempt of court, and later arrested, if they do not immediately pay the claim. It is important to note that if any person ever calls you and asks for your credit card information that you hang up and call your law office or lawyer directly.
Warnings of Scammers
Many states have attempted to address this problem by issuing press releases and attempting to notify the public as this is becoming increasingly common throughout the United States. Make sure that if you feel you are being scammed in any way, that you hang up and never give any of your credit card information out over the phone.
Let Us Help You Today
If you are considering bankruptcy, make your next step contacting an experienced bankruptcy attorney to represent you and help you understand your legal rights. Contact Lehighton & Carbon County bankruptcy lawyer Adam Weaver at 570-818-4888 or contact our office online for a free consultation today.
Resources:
vaeb.uscourts.gov/wordpress/?wpfb_dl=631
vtb.uscourts.gov/news/attorney-general-warns-scams-targeting-bankruptcy-filers
pacer.gov
https://www.weaveresq.com/how-many-times-can-you-file-for-bankruptcy/