Can I Discharge Medical Debt in Bankruptcy?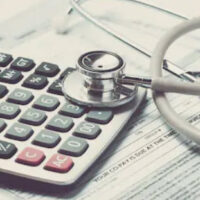 According to research, hundreds of millions of Americans face financial difficulties due to medical costs yearly. Many Americans usually decide to cash in their retirement savings to pay their medical debts. Unfortunately for many, even those savings are never enough to get them out of debt. When medical debts become overwhelming, many Americans choose to file personal bankruptcies.
If you cannot pay medical bills, you might be wondering whether bankruptcy can help you discharge your debt. Filing for bankruptcy allows you to have all or part of your medical debt eliminated, but you cannot limit your bankruptcy case only to medical debts. Bankruptcy laws strive to be as fair as possible to both debtors and creditors. For that reason, once you decide to file for bankruptcy, you will need to list all your debts.
Dischargeable Debts vs. Non-Dischargeable Debts
In bankruptcy, dischargeable debts are those debts that are forgiven and eliminated once a bankruptcy case ends and your Discharge Order is entered. On the other hand, non-dischargeable debts are those debts that cannot be eliminated in bankruptcy. Debtors generally remain responsible for any non-dischargeable debts. Examples of non-dischargeable debts include tax debts, alimony payments, federally guaranteed student loans, and child support payments.
Child support payments, tax debts, and alimony payments are considered priority unsecured debts, and that is why they are treated differently in a bankruptcy case.
Medical debt is not a priority debt, meaning it is dischargeable in bankruptcy. Medical debt is a nonpriority unsecured debt. Nonpriority unsecured debts are often easily discharged in Chapter 7 bankruptcy without the debtor needing to repay any amount. There are, nonetheless, a few exceptions, such as student loans.
Is It Better To File a Chapter 7 or Chapter 13 Bankruptcy?
Before deciding which option to settle for, consult a qualified bankruptcy attorney who can assess your situation and advise you accordingly. Nonetheless, a Chapter 7 bankruptcy is a better option for individuals whose financial situation does not allow them to repay their debts.
On the other hand, Chapter 13 bankruptcy might be the best option for people ineligible to file Chapter 7 bankruptcy. Several reasons could make you ineligible for a Chapter 7 bankruptcy. For instance, to be eligible for a Chapter 7 bankruptcy, you need to pass the means test, which compares your average monthly income to the mean family income in your state. If you fail the test because of your higher income level, then having your debts reorganized through Chapter 13 bankruptcy might be your best chance of managing your debts. Fortunately, even if you file for a Chapter 13 bankruptcy, you might manage to have some of your medical debt discharged at the end of your repayment plan.
If you successfully file for a Chapter 7 bankruptcy, the court will discharge your medical debt completely.
Contact Us for Help Today
To find out which bankruptcy option is suitable for your case, contact an experienced Lehighton & Carbon County bankruptcy attorney at The Law Office of Adam R. Weaver, Esq. today to schedule a consultation.
Resource:
cnbc.com/2019/11/10/americans-are-drowning-in-medical-debt-what-to-know-if-you-need-help.html